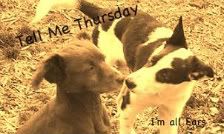 So, I haven't participated in this before, and am a full day late already for it, but I just had to give this one a go.
Here goes:
1. If you won the lottery (a big one... I'm talking stupid muchos cash) what would you do with the money?
Oh, I have this all sorts of planned out.
I would do a couple of things.
Buy my mom a house in Mexico, and some open-ended plane tickets around the world to various locations (like Egypt, France, New Zealand, and other neat places).
Probably buy my sister and her husband the house of their dreams (or pay off their current house, if it is the house of their dreams already!).
Then the real fun would begin. I would purchase a big piece of property, in this area, but probably a bit farther north. I'm talking at minimum 10 acres, probably more like 40+, hopefully with a good forested section and backing up against National Forest land on at least one side. I would build a large, insulated, heated/AC training barn (at least 400x200 feet of working room inside, with movable wall panels that can be pulled out to separate the room into smaller sections). There would be a second story, divided into two large training rooms, a wide hallway, and a large storage area. Both the main floor and upper floor would additionally have a building-length gallery area meant for a crating area. The floors in the main room downstairs, and in the two training rooms above, would be that bouncy matting stuff they have at kid's playgrounds, but covered with a layer of stiffer padding, well sealed, giving that fast, secure surface of mats with the give of softer dirt or grass flooring.
The training barn would be a big place with affordable training classes of all kinds. Scholarships and work-study programs would be set up for those people unable to pay due to financial situations (so they could help out by doing the cleaning, or landscaping, or maintenance, etc, in exchange for classes). Agility, flyball, treiball, scent hurdles, obedience, rally, nose work, and more would all be offered, and there would be competitions and seminars of the various sports most weekends, in the upper rooms or the large arena. I'd put together a trust that awarded prize money to those people who achieve higher-level titles with their dogs in a competition at the center (to generate lots of interest).
And of course, I would build myself a house nearby, on the property. I would probably get build a barn as well, and get a horse, maybe a cow, some sheep or goats, and raise rabbits, sheep, goats, chickens, ducks, etc, for myself and to have fresh, nutritious, humanely raise meat for my dogs (of which I would probably have a few more, though no more than 4 at a time I think), as well as a garden to grow all my favorites. I'd hire someone else to run the training facility so I could spend time doing my animal raising and gardening, and taking care of my dogs, and probably would attend training sessions in about every dog sport all the time, when I wasn't traveling to competitions in my nifty, teeny little camper-van (just big enough for me and the dogs, and super gas-efficient).
Plus, any building on the property would be covered in solar panels (hooked up to the grid), so that we could produce a lot of the electricity we needed to use.
And while the whole place was being built, I would take a trip to see Europe (especially going back to Estonia and Finland), visit Russia, a trip to Thailand, India, Egypt, Australia, New Zealand, and maybe some other places.
2. After winning the lottery would you work a day job? If so, what would you do?
Well, not a day job, no. But, I would probably go back to school to learn therapeutic massage for sports dogs, and practice that on my own and some other dogs as well. And possibly teach some classes at my awesome training facility (probably Flyball, since that is about all I feel totally qualified to teach!).
3. Do you have any auxiliary dogs? Auxiliary dogs are dogs that are not essential to your main purpose (usually tiny, but not always). If you don't have an auxiliary dog what might you choose?
Both of my two are auxiliary dogs. While competitive sporting dogs, neither one is helpful to me on a daily basis in terms of doing chores or similar stuff like farm dogs are expected to do. The most helpful thing my dogs do on a daily basis is Pallo's command "go close the door" that I use when my hands are full or I don't want to get up.
If I count flyball as a purpose, I wouldn't get an auxiliary dog. My dogs are flyball dogs, and will be that until they tell me its time to retire, at which point they will be around, doing the same thing as they do now, only minus the flyball. But I really have no interest in adopting a dog who wouldn't do flyball at least for a while.
4. Do you have a favorite crock pot recipe (or other recipe) you can share?
I have lots of favorite recipes. Right now, my favorite is probably super-simple crockpot apple butter. I have a nifty gadget that cores, peels, and slices apple with a hand crank. I then toss the apple slices into the crock pot. Turn the pot on for 8 hours (normally overnight), then mush up the apples, add sugar, cinnamon, and other spices (I use some cocoa powder) to taste, and let it cook another 6-8 hours. Then, enjoy.
Don't forget do participate in the Saturday Pet Blog Hop and to also check out my last post, and watch some flyball racing live at the CanAm Classic, running all weekend long!