So Fly

My Life With Flyball Dogs
Sunday, December 4, 2016
A benefit of having a tiny dog, you can use them like Christmas tree ornaments.
The perfect tree topper
Wednesday, November 30, 2016
Two weeks ago, I made a last minute trip to Canada. I didn't think I'd be able to go originally, due to work schedules and lack of money. But my work schedule made it possible, and a super generous friend let me ride up with her and stay in her camper van for the weekend, even though it meant she had to leave later in the day than she had planned. And another friend generously let Ptera take a spot on her club's team, giving her a spot to run.
Crazy little dog
Koira stayed with my mom for the weekend. The friend I rode up with has dogs that Koira doesn't like, and that don't like Koira, so it was just easier that way. And it gave me a chance to really concentrate on Ptera for her debut weekend.
She is super intense
I have to say, Ptera exceeded any and all expectations I had for her. I went up there figuring I would run her in one or two races a day, and she would maybe get her first title (20 points), or, at a stretch, her second title (100 pts). On Saturday, she ran in two races of five heats each, and she ran perfect. She didn't have a single error. One dog had an error on one heat with a dropped ball. And the team was running times in the 18-19 second range, which was crazy for my tiny dog's debut. At the end of the day, Ptera had picked up 126 points and her first two titles, Flyball Dog (FD) and Flyball Dog Excellent (FDX).
At Koira's first tournament, she earned 7 points. At Pallo's, he earned 17 points. In a single day, Ptera had exceeded all of my expectations.
Loving the game
Unfortunately, the team we were running with ended up with a number of dogs needing to be pulled on Sunday. One was sick (I think it was an IBS flare up, or something along those lines), and one started limping after the first race. Ptera was moved onto a different team to cover for the sick dog, and the team with the dog who started limping ended up having to pull the team because that was their only height dog. It was a bummer, even if it didn't impact my own dog.
Super intense and focused for a runaway over jumps back to me
I don't remember how many races Ptera ran on Sunday, but it was more than on Saturday. She ran like she was an experienced pro, getting some great passes, and with only two errors on Sunday from fumbled balls. At the end of Sunday, she had earned 376 points, bringing her up to 502 total for the weekend, and earning her third title, FDCh. I never imagined she would earn that her first weekend out.
I don't think I can even express how crazy proud of this tiny terror of a dog I am. Pallo debuted as a solid dog, but with a team who didn't achieve much. Koira debuted with the same team, and did better than most of the dogs, but had her own issues, mainly her box turn, that have held her back from really achieving the points. And my own lack of money for travel hasn't made our flyball career as lucrative as others, as we have to sit out many tournaments each year. But I am so incredibly proud of this tiny dog, and so thankful for all of the people that helped us out and made it possible, with carpooling, camping, putting Ptera in a lineup, risking having an unknown green dog from another team debut with them, and all of the people who asked how she was doing, who took videos of her, and encouraged us all weekend.
So that is my super wordy wordless Wednesday.
The video is of Ptera's real first race. The pictures, though, are from a practice back in July, when we did a team photoshoot.
Tuesday, November 29, 2016
As a fun extra review this month, we tried out
Rachael Ray Nutrish Soup Bones
from
Chewy.com
. Though the name is Soup Bones, these are dense chews that are entirely edible, and not bone. They are soup bone shaped, though, which is where the name comes from, I think. They are in texture closer to something like a Greenie, as a heavy, dense, but chewable treat.
I tried these guys out with Ptera. She is a firecracker, and having something to chew on for a while helps give her something to do that doesn't involve destruction or mayhem (what was I thinking getting a JRT, again? Why didn't someone stop me?). She is a bitty little thing at only 10 lbs, so I cut each of these "soup bones" in half for her so she wasn't getting an absolutely humongous portion. They were tough, but cut in half easily enough with a serrated blade.
First attempt at a grab. She stopped and looked at me to see if I would stop her before she actually picked it up.
Ptera actually interrupted my attempt to get pictures of the soup bones by themselves first, and I managed to snap two pictures before she picked it up and took off. I do not generally let my dogs steal things, but ultimately, I was planning on inviting her into the photoshoot anyway, so I just rolled with it when she invited herself. Obviously she was eager to get ahold of these, and she greatly enjoyed it once she settled down to eat.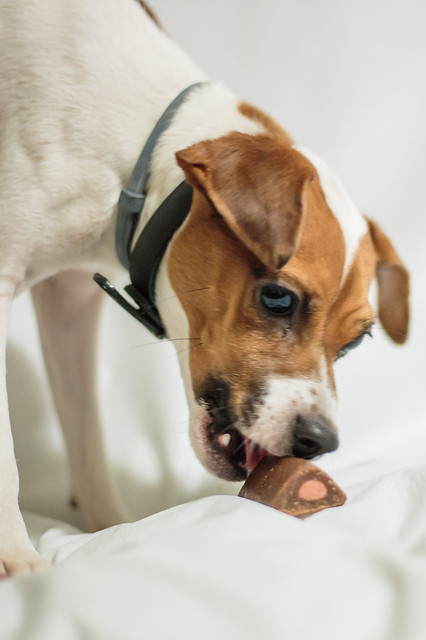 Blurry photo as she grabbed it to take off
I would say that these are a hit with Ptera. They don't last a super long time, maybe 5 minutes at most, but it is a lot more time than it takes for her to eat most treats. She isn't a power chewer, but is very food motivated (what a difference from when I brought her home this spring!). The ingredients aren't what I would want in a food to feed every day, but there is nothing that I am uncomfortable feeding on an occasional, treat only basis. Overall, I would say that we would purchase these in the future as a short lasting chew, especially at less than $5 for a bag (or less, depending on flavor).
We received this product for free in exchange for our honest review. We were not compensated in any other way, and all opinions shared here are entirely our own.