As a fun extra review this month, we tried out
Rachael Ray Nutrish Soup Bones
from
Chewy.com
. Though the name is Soup Bones, these are dense chews that are entirely edible, and not bone. They are soup bone shaped, though, which is where the name comes from, I think. They are in texture closer to something like a Greenie, as a heavy, dense, but chewable treat.
I tried these guys out with Ptera. She is a firecracker, and having something to chew on for a while helps give her something to do that doesn't involve destruction or mayhem (what was I thinking getting a JRT, again? Why didn't someone stop me?). She is a bitty little thing at only 10 lbs, so I cut each of these "soup bones" in half for her so she wasn't getting an absolutely humongous portion. They were tough, but cut in half easily enough with a serrated blade.
First attempt at a grab. She stopped and looked at me to see if I would stop her before she actually picked it up.
Ptera actually interrupted my attempt to get pictures of the soup bones by themselves first, and I managed to snap two pictures before she picked it up and took off. I do not generally let my dogs steal things, but ultimately, I was planning on inviting her into the photoshoot anyway, so I just rolled with it when she invited herself. Obviously she was eager to get ahold of these, and she greatly enjoyed it once she settled down to eat.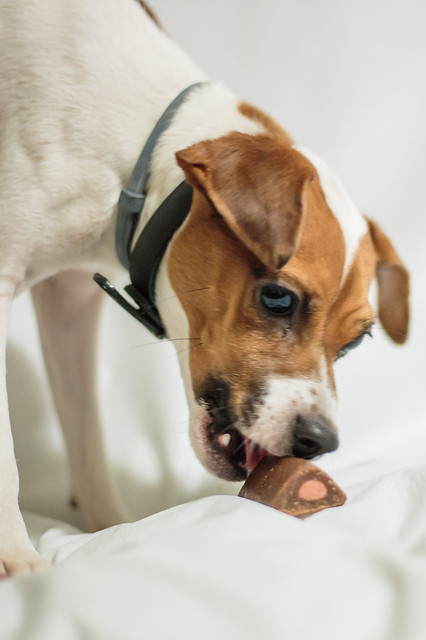 Blurry photo as she grabbed it to take off
I would say that these are a hit with Ptera. They don't last a super long time, maybe 5 minutes at most, but it is a lot more time than it takes for her to eat most treats. She isn't a power chewer, but is very food motivated (what a difference from when I brought her home this spring!). The ingredients aren't what I would want in a food to feed every day, but there is nothing that I am uncomfortable feeding on an occasional, treat only basis. Overall, I would say that we would purchase these in the future as a short lasting chew, especially at less than $5 for a bag (or less, depending on flavor).
We received this product for free in exchange for our honest review. We were not compensated in any other way, and all opinions shared here are entirely our own.